Merrydowners - Swanage Folk Festival 2016
The Merrydowners are a mixed men's and women's cotswold morris side based in North Harrow, Middlesex, (North West London). We normally practice twice a month in the evening on the first and third Wednesday . See Diary of Events below for dates and times.
If you are interested in finding out more about the side or would like to come along to one of our practice sessions then please contact us via the Contact Us web page.. Further information about our background can be found on the About Us web page and details of future events are listed at the bottom of this page.
We practice at the Scout Hut, Northumberland Road, North Harrow, Middlesex, HA2 7RA . See map above.
Our practice dates are listed below in the Diary of Events and we try and schedules these on the first and third Wednesday of every month, starting at 8pm until 10pm
We welcome new members, experience is not necessary , so why not come along and give it a try.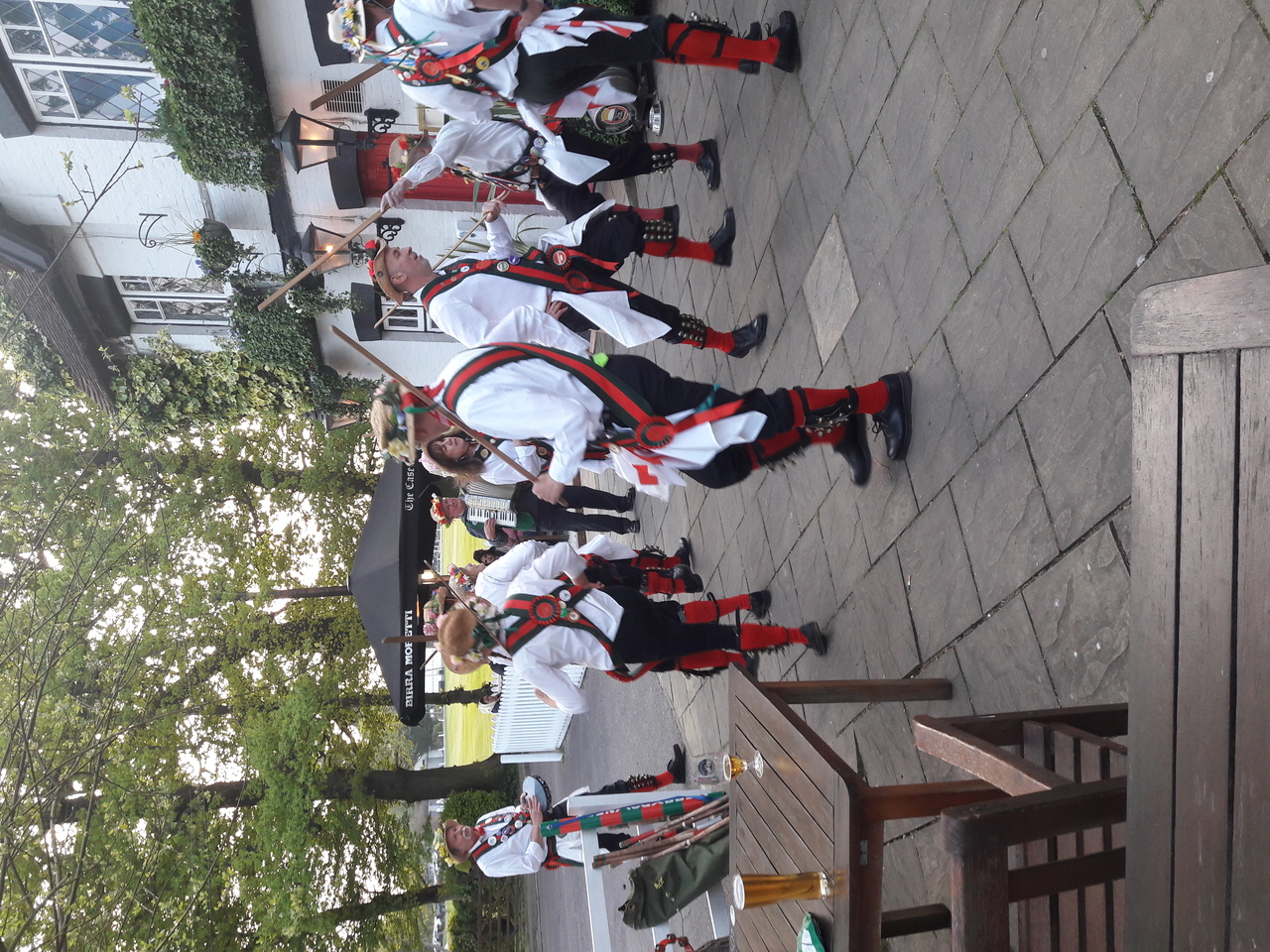 Our first Dance Out this year was on St George's Day at the Case is Altered, Eastcote. It was great to be back dancing again after the Covid restrictions and getting the rust out of our bells !!
We will be back Practicing again after our summer break at our old venue , The Scout Hut, Northumberland Road, North Harrow, HA2 7RA. So if you are interested why not come along. Our next rehearsal is on Wednesday 7th September 2022 starting at 8pm , So why not give Morris dancing a try no experience is required and you will be most welcome .
Our next performance will be at the Pinner Show, Pinner Memorial Park , Pinner on Saturday 10th September 2022 from midday onwards .
We collected £209.65 for Prostate Cancer on St George's day and over the Mayday weekend. A big thank you to everyone who contributed.
One of our Ex Team member's who moved away has recently written a book titled :- Three Men and a Rubber Chicken By John Furniss . The book outlines John's 18 years of fun and frolics with the Merrydowners, from learning the the ancient art of Morris Dancing and being part of a team that performed at a number of venues throughout the UK to dancing with the team in places such as Hong Kong, Germany and France etc. It has some amusing chapters, particularly when we managed to loose our rubber chicken on top of a burger bar (you will need to read the book to find out more ) . If you are interested, the book can be purchased via the Amazon book store priced £12.
Diary of Events - Click on the event if you require further details